Peony Jean Ericksen
Peony Jean Ericksen is a Midseason Japanse red Peony Herbaceous Lactiflora, this deep red Jap has a center the same shade as the outer petals when first opens, as flower ages the staminodes become silver tipped, strong stems, vigorous grower, average height 38 inch / 96.5 cm, Mrs Jean Ericksen (95) was a grand lady, a famous Prairie breeder of Lilies (including Martagons), Peonies and other plants over her long active lifetime; and always so generous in sharing her vast detailed knowledge, enthusiasm, plant materials, and simple hospitality, with so many of us, To the last, she retained her full memory, and always could tell us of the parentage of so many lilies, and who of her time, had bred them, when, where, and how. Jean lived in the province of Saskatchewan, Canada. (Mrs. Jean Ericksen, Canada, 1999).
Bare root size: 3/5 eye
38"
Quantity per standard box:
Perennial Box Size (standard) = 24" x 16" x 9" or, 60cm x 40cm x 23cm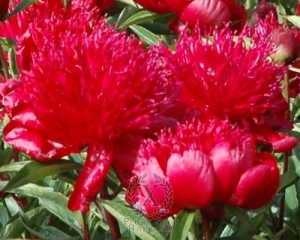 Sold Out! Available in years: 2024, 2026
Peony Jean Ericksen is one of the many Red Peonies that we grow at Peony Nursery 'Peony Shop Holland'.
About peony nursery "Peonyshop.com" Peony Shop Holland
Peony Farm Peony Shop Holland peonyshop.com right now only targets on increasing exclusive, high superior quality peonies. It has not always been this situation. This specific firm has got a rich history starting off in 1875 together with Simon Scholten who also had been growing vegetables and fruits for money.
In the year 2001 the business made up their unique new-found promotion-label & logo "Peonyshop.com" and as a result they started centering on expanding unique peonies. Throughout the year 2002 the particular corporation opened up their world wide web peonyshop with Peonies & Buxus. During the year 2003 Joshua Scholten began with raising peonies. Than in year 2004 this organization began to foreign trade peonies originating from the Netherlands all-around European countries, America and additionally Asia.
Right now our peony nursery is specialized in increasing and developing exclusive, top quality peony roots that can be marketed and exported to everywhere around the world. In addition we additionally reduce peonies largely helping the Dutch peony flower sector.
The main things we pride:
The high-quality of our product
The ability to foreign trade worldwide
All of our extensive collection of red peonies like Jean Ericksen
The Peony Nursery stock of high full potential red Peonies for cut-flower production.
Growing Jean Ericksen a double red peony flower
The fall is truly the ideal moment for planting peonies. Pretty much all peony plants have proven to be unbelievably long-lived plants staying alive approximately 50 to a maximum of seventy years, so once you get them placed in the correct manner, you will have fun with the plants for many years. Peonies like some sort of sunlit area together with a well-drained dirt. A good air flow movement available the plant is mandatory. These kind of settings help peonies stay away from disease problems. To organize the seeding hole meant for a bare-root peony, dig the soil into a depth around 12-18inch. Use a garden fork to remove the edges of the particular seeding hole as well. It is really essential that the particular "eyes, ", or growing nodes, situated nearby the base of the old stem, end up no greater than Two inches under the soil surface area.