Peony Ivory Escort
Peony Ivory Escort is a Midseason semi-double to double White Peony Herbaceous Lactiflora, white, ivory with occasional red streaking, prominent gold stamens showing through, flat form, 3-4 flowers per stem, good bloom and reliable, fragrant, pollen, no seeds, vigorous with rich deep green foliage, strong stems, average height 28 inch / 71 cm, first bloomed 1990, (Roy G. Klehm, USA, 1998).
Bare root size: 3/5 eye
28"
Quantity per standard box:
Perennial Box Size (standard) = 24" x 16" x 9" or, 60cm x 40cm x 23cm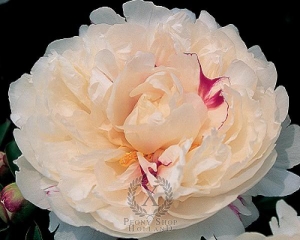 Sold Out! Available in years: 2024, 2026
Peony Ivory Escort is one of the many double white peonies that we grow at Peony Nursery 'Peony Shop Holland'.
Regarding peony farm "Peonyshop.com" Peony Shop Holland
Peony farm Peonyshop.com Peony Shop Holland in these days specifically concentrates on increasing exclusive, good top quality peonies. It has not always been this way. This particular firm has a rich back ground starting off in the year 1875 along with Simon Scholten that also had been growing fresh vegetables for money.
During the year 2001 the business enterprise created their own new advertising-label & logo design "Peonyshop.com" and after that they began putting attention on improving exclusive peonies. During the year 2002 the corporation launched their very own on-line peonyshop together with Peonies & Buxus. Within the year 2003 Joshua Scholten started with raising peonies. After that in year 2004 this institution began to distribute peonies originating from the Netherlands all over European countries, America and Asian countries.
Currently our own peony nursery is specialized in growing and spreading special, high-quality peony roots that happen to be offered for sale and released anywhere in the world. In addition we additionally reduce peonies mainly serving the Dutch peony flower marketplace.
The most important things we pride:
The good quality of our own products
The capacity to foreign trade across the globe
Our enormous assortment of white peonies like Ivory Escort
The peony nursery of substantial full potential white Peonies for cut-flower production.
About Ivory Escort a white Peony flower
Fall is without a doubt the correct moment regarding planting peony plants. All the peonies are amazingly long-lived plants staying around nearly fifty up to seventy yrs, so right after an individual get them selected and planted correctly, a person will have fun with them for many, many years. The plants like the sunlit area with a well-drained dirt. A good air flow circulation presented around the the peony plant is required. These particular settings assist these plants to avoid illness problems. To organize the planting hole for a bare-root peony plant, dig the ground to a depth of 12-18inch. Utilize garden tools to remove the edges of the growing hole at the same time. It can be especially essential that the particular "eyes", or growth nodes, positioned nearby the base of the old stem, end up no more than Two inch below the soil surface.