Peony Georgiana Shaylor
Peony Georgiana Shaylor is a Late Midseason double Pink Peony Herbaceous Lactiflora, light rose-pink, paler on backs of petals, vivid crimson marks on a ring of short petals around center, a very large rose-type flower, very fragrant, good stems, good cut-flower, average height 32 inch / 81 cm, (Shaylor, USA, 1908).
Bare root size: 3/5 eye
32"
Quantity per standard box:
Perennial Box Size (standard) = 24" x 16" x 9" or, 60cm x 40cm x 23cm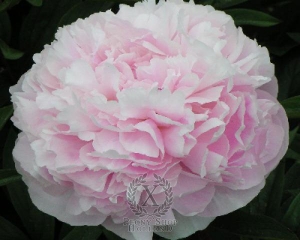 Sold Out! Available in years: 2024, 2026
Peony Georgiana Shaylor is one of the many special pink Peonies that we grow at Peony Nursery 'Peony Shop Holland'.
About Peony Nursery "Peonyshop.com" Peony Shop Holland Lutjebroek
Peony Nursery Peony Shop Holland peonyshop.com at this time exclusively concentrates on unique, outstanding high-quality peonies. This particular focus was not always the main scenario. The company has a rich back ground with the starting point in 1875 together with Simon Scholten that also has been growing greens for living.
During 2001 this corporation put together their very own modern selling-title & logo design "Peonyshop.com" and they started off centering on growing unique peonies. During the year 2002 the particular company opened their very own world wide web peonyshop.com with Peonies & Buxus. Throughout the year 2003 Joshua Scholten started out with breeding peonies. After that in year 2004 the particular business started to foreign trade peonies out of the Netherlands all over European countries, America and also Asia.
Currently our peony nursery is specialized in increasing and developing exclusive, high quality peony roots that can be bought and released world-wide. Aside from that we additionally cut peonies mainly helping the Dutch peony flower marketplace.
The particular things we pride:
The excellent quality of our own products
The ability to export all over the world
All of our substantial assortment of pink peonies like Georgiana Shaylor
Our Peony Nursery of large full potential pink peonies for cut-flower production
About Georgiana Shaylor a pink Peony flower
The fall season is considered to be the ideal period of time if you think about seeding peony plants. The peony plants tend to be extremely long-term-lived plants sticking around up to fifty to a max of 70 yrs, so as soon as you'll have them selected and planted in the correct manner, an individual will certainly enjoy the peonies for many years. Peonies opt for some sort of sun-drenched area with a well-drained ground. A high quality air circulation available the the peony plant can also be required. These sorts of environments allow these plants to prevent illness problems. To arrange the planting hole for the purpose of a bare-root peony plant, dig the soil to some level around 12-18inch. Work with a garden fork to remove the edges of the particular growing hole at the same time. It is very especially important and vital that the "eye", or growth, nodes, located close to the base of the old stem, end up no more than Two inches under the dirt surface area.