Peony Festiva Powder Puff
Peony Festiva Powder Puff is an Early double white Peony Herbaceous Lactiflora, pure white fluffy double, yellow stamen hide amongst petals that occasionally are found marked with red, fragrant, strong stems, set seeds, average height 30 inch / 76 cm. This flower reminds Roy Klehm about his Grandma's powder puff. (Roy G. KLehm, USA, 1986).
Bare root size: 3/5 eye
30"
| Size | Weight |
| --- | --- |
| 3/5 eye | 250 gram |
Quantity per standard box:
Perennial Box Size (standard) = 24" x 16" x 9" or, 60cm x 40cm x 23cm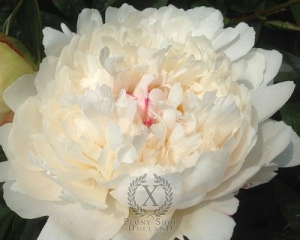 ---
Size (eye)
1+
3+
3/5

€

14.00

€

11.00
---
Please
login
to place orders and see Peony prices for all quantities.
Peony Festiva Powder Puff is one of the many white peonies that we grow at Peony Nursery Peony Shop Holland. Always high in demand by the Florists for the wedding market.
Regarding peonynursery "Peonyshop.com" Peony Shop Holland
Peony nursery Peony Shop Holland peonyshop.com in these days primarily concentrates on expanding exclusive, outstanding high quality peonies. This wasn't always the main case. This corporation comes with an unique background starting off in 1875 accompanied by Simon Scholten who also has been growing veggies and fruit for money.
During 2001 this corporation generated their unique spanking new selling-title & logo design "Peonyshop.com" and after that they started putting attention on expanding exceptional peonies. Within the year 2002 the particular company opened up their very own online peonyshop.com together with Peonies & Buxus. During the year 2003 Joshua Scholten began with raising peonies. Then in year 2004 the firm started to export peonies of the Netherlands all around Europe, America and additionally Asian countries.
Currently our own peony nursery is specialized in growing and developing exclusive, high-quality peony roots which can be sold and released world wide. Aside from that the particular firm even cut peonies predominantly helping the Dutch peony flower marketplace.
The particular things we pride:
The top quality of our products
Our capability to foreign trade across the globe
All of our broad collection of white peonies like Festiva Powder Puff
Our Peony Nursery stock of large potential white peonies for cut-flower production
About growing Festiva Powder Puff a White Peony
Fall is certainly a suitable period of time if you weigh in mind growing a peony. Nearly all peony plants are amazingly long-term-lived plants lasting close to 50 up to 70 years, so once a person get them selected and planted in the right way, an individual will certainly benefit from the peonies for many, many years. Peonies like a shiny position having a well-drained ground. A good air flow movement available around the the peony plant can also be important and vital. These conditions allow this type of plants to stay away from disease issues. To prepare the planting hole designed for a bare-root peony plant, dig the dirt to a depth of 12-18". Utilize a garden fork to remove the sides of the particular seeding hole at the same time. It is especially important that the "eye", or growth nodes, positioned close to the bottom of the old stem, end up no greater than 2 inch below the dirt area.