Peony Faithful Dream
Peony Faithful Dream is an early semi-double to double pink Peony Herbaceous Hybrid, salmon pink flowers hold color well until petal drop, flower size 8 inches, occasional side buds, carpels are light green, 3 to 9 in number depending on doubling, and moderately hairy with short white hairs, stigmas are dark pink having normal anatomy, has a well-developed staminodal disk, colored dark pink, stamens, pollen and seeds, foliage is large, dark green, broadly pointed, and holds well into autumn, upright plant habit with thick stems, Average height 34 inch / 86 cm, strong bush, strong grower, 'Faithful Dream' is the pollen parent of Certificate of Merit winning seedling FKyPK shown at 2012 APS exhibition in Omaha, Nebraska, and thus will be of particular interest to peony breeders for the genetics contributed by its highly regarded parents, and its proven potential to produce doubling in its seedlings, (Timothy Stanek, USA, 2014).
Bare root size: 3/5 eye
34"
Quantity per standard box:
Perennial Box Size (standard) = 24" x 16" x 9" or, 60cm x 40cm x 23cm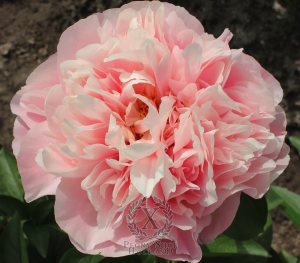 Sold Out! Available in years: 2026, 2028
Peony Faithful Dream is a pink Peony Hybrid made by Timothy Stanek and is one of the many special pink Peonies that we grow at Peony Shop Holland
Regarding peony farm "Peonyshop.com" Peony Shop Holland
Peony Farm Peony Shop Holland in this modern day solely concentrates at getting exclusive, high quality peonies. This has not been always the main situation. The corporation carries a successful back ground with the starting point in the year 1875 along with Simon Scholten that has been growing vegetables and fruits for her full time income.
During 2001 the business enterprise put together their unique modern marketing and advertising-name & logo "Peonyshop.com" and as a result they began centering on developing exclusive peonies. During 2002 the particular company opened their very own world wide web peonyshop together with Peonies & Buxus. In the year 2003 Joshua Scholten started out with raising peonies. After that in 2004 this business started to export peonies out of the Netherlands all over European countries, America and also Asia.
Right now our peony nursery is focused on improving and spreading unique, high quality peony roots that are sold and exported to in many countries. Additionally we additionally reduce peonies mainly supporting the Dutch peony flower marketplace.
The things we pride:
The high-quality of our product
Our capacity to foreign trade around the globe
Our new enormous collection pink peonies like Faithful Dream
Our Nursery stock of substantial full potential pink peonies for cut-flower production
Growing Faithful Dream a pink peony flower
The fall is the correct period of time if you think about seeding peonies. A lot of peonies happen to be unbelievably long-lived plants lasting up to 50 to a max of 70 yrs, so as soon as you'll get them planted rightly, you will certainly get pleasure from the peonies for many, many years. The plants prefer some sort of bright spot having a well-drained soil. A good air circulation presented around the plant is also mandatory. These particular circumstances allow peonies avoid disease problems. To prepare a sowing hole designed for a bare-root peony, dig the soil to a level of 12-18inch. Make use of garden tools to release the edges of the particular planting hole at the same time. It really is very essential that the "eyes, ", or growing nodes, located near the bottom of the old stem, end up no more than 2 inches below the soil surface.