Peony Echt Klasse
Peony 'Echte Klasse' is an Early Midseason semi-double red Peony Herbaceous Lactiflora, many smooth petals of shining, intense scarlet red surround a small center of light yellow stamens and velvety white carpels, filaments red, large flowers set close to the bush, smooth leaflets, medium green, average height 26 inch / 66 cm, May shut down when stressed by heat and drought, the performance not diminished. Parentage (Karl Rosenfield x Good Cheer). Named by Werner Reinermann, (Hollingsworth / Reinermann, 2000).
Bare root size: 3/5 eye
26"
Quantity per standard box:
Perennial Box Size (standard) = 24" x 16" x 9" or, 60cm x 40cm x 23cm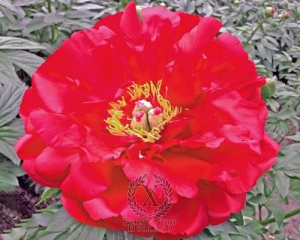 Sold Out! Available in years: 2026, 2028
Peony 'Echte Klasse' is one of the many red Peonies that we grow at Peony Nursery 'Peony Shop Holland'.
About Peony Nursery "Peonyshop.com"Peony Shop Holland, Lutjebroek, The Netherlands
Peony nursery Peony Shop Holland peonyshop.com in this modern day specifically centers at increasing exclusive, outstanding top quality peonies. It hasn't always been this situation. This company has got an unique back ground opening in the year 1875 along with Simon Scholten that had been growing fresh fruit for money.
In the year 2001 the business developed their very own new selling-name & brand "Peonyshop.com" and after that they began focusing on improving exclusive peonies. Throughout the year 2002 the particular company launched their very own shop on the internet", the: peonyshop together with Peonies & Buxus. Throughout the year 2003 Joshua Scholten started with raising peonies. Than in 2004 this organization started to foreign trade peonies out of the Netherlands all over European countries, Usa plus Asia.
Nowadays our peony nursery is focused on growing and multiplying exceptional, high-quality peony roots that happen to be marketed and exported to internationally. Additionally this firm also cut peonies largely supporting the Dutch peony flower industry.
The particular things we pride:
The premium quality of our products
Our potential to export around the globe
Our own extensive assortment of red peonies like Echt Klasse
The Peony nursery stock of large potential semi-double red peonies for cut-flower production
About growing Echt Klasse a double red peony flower
The fall is actually a suitable moment for planting peony plants. A lot of peonies happen to be exceptionally long-term-lived plants beeing alive up to 50 to a maximum of seventy yrs, so as soon an individual have the particular peonies planted in the correct manner, an individual will definitely benefit from them for years and years. These plants opt for some sort of shiny position having a well-drained dirt. A good air movement available the peony is mandatory. All of these settings assist these plants to avoid sickness issues. To prepare the sowing hole for the purpose of a bare-root peony, dig the soil to the depth around 12-18inch. Use garden tools to release the sides of the growing hole as well. It is actually pretty important and vital that the "eye", or growth nodes, located nearby the bottom of the old stem, end up no greater than Two inches below the ground area.