Peony Eastern Star
Peony 'Eastern Star' is a Midseason bomb-type double White Peony Herbaceous Lactiflora, a large, pure white flower, average height 30 inch / 76 cm, named after the Masonic organization Myron Bigger was active in for many years, flower resembles Snow Mountain, (Myron D. Bigger, 1975, USA).
Bare root size: 3/5 eye
30"
| Size | Weight |
| --- | --- |
| 1/2 eye | 50 gram |
Quantity per standard box:
Perennial Box Size (standard) = 24" x 16" x 9" or, 60cm x 40cm x 23cm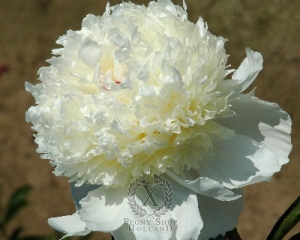 Sold Out! Available in years: 2025
Peony 'Eastern Star' is one of the many white Peonies that we grow at Peony Nursery 'Peony Shop Holland'.
About Peony Nursery "Peonyshop.com" Peony Shop Holland Lutjebroek
Peony Grower Peony Shop Holland Peonyshop.com in this modern day only focuses on developing exceptional, high best quality peonies. It has not always been this way. This specific firm has got an broad back ground starting up in 1875 along with Simon Scholten that had been growing fresh vegetables for an income.
In the year 2001 this business organisation developed their brand-new advertising-title & brand "Peonyshop.com" and as a result they started off centering on expanding unique peonies. Throughout the year 2002 the corporation launched their own world wide web peonyshop together with Peonies & Buxus. Throughout 2003 Joshua Scholten began with breeding peonies. Than in year 2004 the institution began to market peonies from the Netherlands all around Europe, Usa and Asia.
Right now our peony nursery is focused on improving and developing special, premium quality peony roots that can be marketed and exported to world wide. In addition we additionally reduce peonies predominantly helping the Dutch peony flower sector.
The particular things we pride:
The top quality of our own products
The ability to export all over the globe
All of our enormous assortment peonies like Eastern Star
Our crame of substantial potential seedlings
Growing Eastern Star peonies
The fall season is really a suitable time for planting a peony plant. The peonies are generally incredibly long-term-lived plants beeing alive approximately 50 to a maximum of seventy yrs, so shortly after you'll get the peonies selected and planted rightly, you is going to enjoy the plants for years. Peonies prefer some sort of sunlit place together with a well-drained dirt. A good air circulation available the peonie is also crucial. These kinds of conditions allow these plants to stay away from sickness problems. To organize the seeding hole meant for a bare-root peony plant, dig the dirt to a level of 12-18inch. Work with garden tools to loosen the sides of the growing hole at the same time. It is actually especially crucial that the particular "eyes, ", or growth nodes, positioned close to the bottom of the old stem, end up no greater than Two inches below the soil surface.