Peony Crazy Daisy
Peony 'Crazy Daisy' is an Early single white with raspberry streaking Peony Herbaceous Lactiflora, Cactus dahlia type, flower of lime green and white base, with raspberry streaking and edging, puffy, crazy flowers, slight fragrance, good substance, 0-2 side buds, has pollen, healthy green foliage, good stem strength, average height 36 inch / 91.5 cm, (Roy G. Klehm, USA, 1995).
Bare root size: 3/5 eye
36"
| Size | Weight |
| --- | --- |
| 1/2 eye | 50 gram |
Quantity per standard box:
Perennial Box Size (standard) = 24" x 16" x 9" or, 60cm x 40cm x 23cm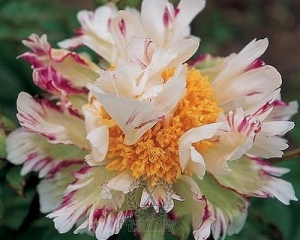 Sold Out! Available in years: 2025
Peony 'Crazy Daisy' is one of the many single White with raspberry streaking Peonies that we grow at Peony Nursery 'Peony Shop Holland'.
Regarding Peony Nursery "Peonyshop.com" Peony Shop Holland Lutjebroek
Peony grower Peonyshop.com Peony Shop Holland nowadays exclusively targets at improving exclusive, very high prime quality peonies. This particular aim hasn't been always the main case. The company owns an outstanding back ground opening in 1875 with Simon Scholten who was basically growing fruit for a full time income.
During the year 2001 this company formed their unique new-found advertising and marketing-name & brand "Peonyshop.com" and consequently they began concentrating on growing unique peonies. During 2002 this company opened up their very own online peonyshop with Peonies & Buxus. Within the year 2003 Joshua Scholten began with breeding peonies. After that in year 2004 this particular company started to foreign trade peonies originating from the Netherlands all-around Europe, America and even Asian countries.
Right now our peony nursery is focused on growing and developing unique, high quality peony roots that can be marketed and released in many countries. In addition this organization additionally reduce peonies largely serving the Dutch peony flower market.
The most important things we pride:
The excellent quality of our own product
The potential to export worldwide
Our own wide-ranging range of single white with raspberry streaking peonies like Crazy Daisy
The Peony Nursery of large potential single white with raspberry streaking peonies for the garden.
About Crazy Daisy a single white with raspberry streaking peony
Fall is without a question the ideal period of time if you think about growing a peony plant. The peonies tend to be extremely long-lived plants staying around approximately fifty up to 70 yrs, so right after a person get the peonies planted correctly, you definitely will have fun with them for many years. The plants like the sun-drenched location together with a well-drained soil. A good quality air circulation available the plant is also required. These sorts of environs allow peonies avoid illness issues. To prepare a seeding hole designed for a bareroot peony, dig the soil to some level around 12-18inches. Make use of a garden fork to remove the sides of the particular growing hole as well. It is really extremely important and vital that the "eyes, ", or growth, nodes, located close to the bottom of the old stem, end up no more than Two inches below the dirt area.