Peony Circus-Circus
Peony 'Circus-Circus' is an Early semi-double white Peony Herbaceous Lactiflora, white with irregular raspberry streaking, raspberry tipped pistils and yellow center completes the circus of colors, slightly fragrant, 1-5 side-buds per stem, (Roy G. Klehm, USA, 1995).
Bare root size: 3/5 eye
28"
Quantity per standard box:
Perennial Box Size (standard) = 24" x 16" x 9" or, 60cm x 40cm x 23cm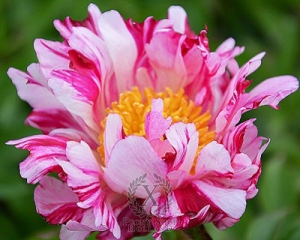 Sold Out! Available in years: 2024, 2026
Peony 'Circus-Circus' is one of the many Pink Peonies that we grow at Peony Nursery 'Peony Shop Holland'.
About peonynursery "Peonyshop.com" Peony Shop Holland Lutjebroek
Peony nursery Peony Shop Holland peonyshop.com nowadays specifically targets at growing exceptional, good top quality peonies. It has not always been this way. The corporation has got a rich background opening in 1875 with the help of Simon Scholten who has been growing fruit for money.
During 2001 this business enterprise produced their spanking new marketing-name & logo design "Peonyshop.com" and consequently they began concentrating on growing exceptional peonies. During 2002 the firm opened up their very own online peonyshop.com together with Peonies & Buxus. Throughout 2003 Joshua Scholten started out with breeding peonies. After that in 2004 this particular company started to export peonies out of the Netherlands all-around Europe, America plus Asian countries.
Nowadays our own peony nursery is focused on maximizing and increasing the number of exceptional, premium quality peony roots which have been bought and exported to all over the world. Additionally the organization additionally reduce peonies largely serving the Dutch peony flower marketplace.
The most important things we pride:
The high-quality of our products
The capability to foreign trade across the globe
Our own wide-ranging range white with red striped peonies like Circus-Circus
The peony nursery of large potential white with red peonies for cut-flower production and garden.
About growing Circus Circus a white with red peony
The fall season is without a question the best moment for planting peonies. All the peony plants are generally exceptionally long-lived plants sustaining up to 50 up to 70 years, so once an individual get the particular peonies selected and planted in the correct manner, a person will enjoy them for years and years. Peonies have a preference for a bright location having a well-drained ground. A good air circulation available the plant can also be important. These kind of circumstances allow these plants to prevent disease problems. To prepare a planting hole meant for a bare-root peony plant, dig the soil to the level around 12-18inches. Use garden tools to remove the sides of the seeding hole as well. It's always really crucial that the "eyes", or growing nodes, located close to the bottom of the old stem, end up no more than Two " below the soil surface area.