Peony Chinook
Peony 'Chinook' is a Late double pink Peony Herbaceous Lactiflora, light salmon tailored flower with in center marbled red petals, fragrant when first open, medium green foliage, strong stems, average height 36 inch / 91 cm (Walter Marx/Allan Rogers, USA, 1981).
Bare root size: 3/5 eye
36"
Quantity per standard box:
Perennial Box Size (standard) = 24" x 16" x 9" or, 60cm x 40cm x 23cm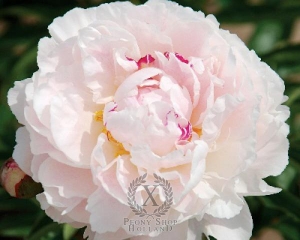 Sold Out! Available in years: 2024, 2026
Peony 'Chinook' is one of the many Pink Peonies that we grow at Peony Nursery 'Peony Shop Holland'.
Regarding peonynursery "Peonyshop.com" Lutjebroek, the Netherlands
Peony farm Peonyshop.com nowadays specifically focuses at growing unique, extraordinary leading quality peonies. It hasn't always been this way. This firm has got a rich background starting in 1875 accompanied by Simon Scholten that also had been growing veggies for income.
During 2001 the particular business constructed their new marketing and advertising tactics-name & logo "Peonyshop.com" and they started off concentrating on developing unique peonies. Within the year 2002 the particular corporation opened up their online peonyshop together with Peonies & Buxus. Throughout the year 2003 Joshua Scholten started out with multiplying peonies. Than in 2004 the particular firm began to export peonies of the Netherlands all over Europe, Usa and also Asian countries.
Right now our peony nursery is specialized in increasing and spreading exceptional, premium quality peony roots which have been marketed and exported to around the globe. In addition we also cut peonies mainly serving the Dutch peony flower market.
The particular things we pride:
The high quality of our own product
Our capability to export world wide
Our own extensive range of pink peonies like Chinook
The peony nursery of substantial full potential pink peonies for cut-flower production and garden.
Growing Chinook a pink peony
Fall happens to be the ideal period of time if you consider planting a peony. Almost all peony plants tend to be incredibly long-term-lived plants sustaining close to 50 to a maximum of 70 yrs, so once an individual get the particular peonies planted in the right way, a person will definitely have fun with the peonies for many years. These plants like some sort of bright location with a well-drained ground. A good air flow movement available the the peony plant is also required. These environments allow these plants to prevent disease issues. To arrange a sowing hole designed for a bareroot peony plant, dig the dirt into a level around 12-18inch. Utilize a garden fork to release the edges of the planting hole at the same time. It is actually extremely important and vital that the particular "eyes, ", or growth, nodes, located near the base of the old stem, end up no greater than 2 " below the soil area.