Peony Chiffon Parfait
Peony 'Chiffon Parfait' is a Late Pink Peony Herbaceous Lactiflora, large pink flowers with heavy petalage in blossoms with unusual round ball-shaped blooms, fragrant, foliage is an attractive kelly green and makes a strong, tall bush, average height 34 inch / 86 cm, (Klehm, USA, 1981).
Bare root size: 3/5 eye
34"
Quantity per standard box:
Perennial Box Size (standard) = 24" x 16" x 9" or, 60cm x 40cm x 23cm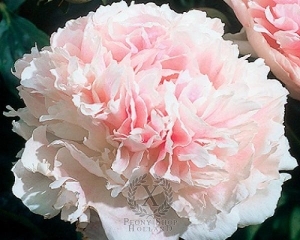 Sold Out! Available in years: 2024, 2026
Peony 'Chiffon Parfait' is one the many Pink Peonies that we grow at Peony Nursery 'Peony Shop Holland'.
Regarding Peony growers "Peonyshop.com" Peony Shop Holland
Peony nursery Peonyshop.com Peony Shop Holland in this modern day primarily focuses on expanding unique, great good quality peonies. This was not always the situation. This particular firm has a rich background starting up in the year 1875 along with Simon Scholten that also was basically growing veggies for income.
During the year 2001 this specific company formed their very own new-found marketing and advertising-label & logo "Peonyshop.com" and as a result they started putting attention on improving exceptional peonies. During 2002 this business opened up their own online peonyshop.com with Peonies & Buxus. During the year 2003 Joshua Scholten began with breeding peonies. Then in year 2004 the particular institution began to foreign trade peonies of the Netherlands throughout Europe, America and additionally Asian countries.
Nowadays our peony nursery is focused on increasing and developing exclusive, high-quality peony roots which have been marketed and released throughout the world. Aside from that this firm additionally cut peonies predominantly assisting the Dutch peony flower sector.
The main things we pride:
The good quality of our own products
The potential to foreign trade world-wide
Our extensive range of pink peonies like Chiffon Parfait
The peony nursery of substantial full potential pink peonies for cut-flower production and garden.
About growing Chiffon Parfait a pink peony
The fall is the ideal moment if you consider seeding a peony. Almost all peony plants have proven to be amazingly long-term-lived plants being alive nearly 50 to a maximum of seventy years, so shortly after an individual get them planted correctly, an individual is going to enjoy the peonies for a long time. The plants like a sunlit area having a well-drained soil. A good air flow circulation available the peonies is important. These particular settings help this type of plants to avoid sickness issues. To prepare a planting hole for a bare-root peony, dig the ground to the depth around 12-18inches. Utilize a garden fork to release the sides of the planting hole as well. It really is really important and vital that the "eye", or growth nodes, located nearby the bottom of the old stem, end up no more than Two inch beneath the ground area.