Peony Chestine Gowdy
Peony 'Chestine Gowdy' is a late double pink Peony Herbaceous Lactiflora, Large flowers, Guards and crown light rose, the latter surrounded by a belt of red-edged petals; collar creamy white; excellent fragrance. Tall; strong grower; floriferous; strong stems. Good foliage. Quite distinct. In early stages a dumpy, conical shape; later the crown expands horizontally making a cylindrical or "plug-hat" flower. The color fades also, becoming white in collar and extreme center. Plant is excellent for garden decoration. "A very distinct and interesting flower."—Boyd. "Rose-type bloom when first opening, but soon expanding into a very high crown so that flower is oftentimes higher than it is broad."—Thurlow. (Brand, O.F & A.M., USA, 1913).
Bare root size: 3/5 eye
34"
| Size | Weight |
| --- | --- |
| 3/5 eye | 250 gram |
Quantity per standard box:
Perennial Box Size (standard) = 24" x 16" x 9" or, 60cm x 40cm x 23cm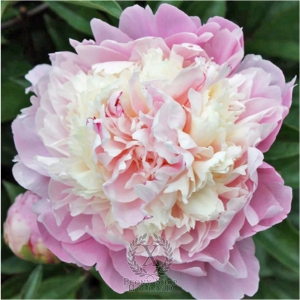 ---
Size (eye)
1+
3+
3/5

€

55.00

€

50.00
---
Please
login
to place orders and see Peony prices for all quantities.
Chestine Gowdy is one of the many double pink Peonies that we grow at Peony Shop Holland
About Peony nursery "Peonyshop.com" Peony Shop Holland
Peony Grower Peony Shop Holland Peonyshop.com in these days exclusively targets at unique, outstanding good peonies. This wasn't always the scenario. This firm comes with a successful history opening in the year 1875 together with Simon Scholten who also had been growing veggies and fruit for a full time income.
In 2001 the corporation made up their new-found selling-label & logo "Peonyshop.com" and after that they began centering on improving exceptional peonies. In the year 2002 the particular organization opened up their on-line Peony Shop Holland with Peonies & Buxus. During 2003 Joshua Scholten started out with raising peonies. After that in 2004 this organization started to market peonies from the Netherlands throughout European countries, Usa and additionally Asia.
Right now our peony nursery is focused on maximizing and multiplying unique, high quality peony roots that happen to be marketed and released throughout the world. Aside from that the particular organization also reduce peonies primarily serving the Dutch peony flower industry.
The things we pride:
The high quality of our own products
The capacity to foreign trade around the globe
Our substantial range of pink peonies like Chestine Gowdy
Our Nursery stock of high potential pink peonies for cut-flower production.
Growing Chestine Gowdy a large pink peony
The fall season is without a question the best time if you consider seeding peonies. The peony plants happen to be unbelievably long-term-lived plants staying around up to fifty up to 70 years, so soon after a person have the particular peonies planted in the right way, a person is going to enjoy the plants for a long time. These plants like a shiny spot together with a well-drained ground. A good air circulation available around the peonies is crucial. All these milieu assist these plants to prevent sickness issues. To arrange the sowing hole designed for a bare-root peony, dig the dirt to some level around 12-18inches. Use a garden fork to loosen the edges of the particular growing hole at the same time. It's actually especially important that the particular "eye", or growing nodes, situated close to the base of the old stem, end up no more than Two inches beneath the ground surface area.