Peony Caroline
Peony 'Caroline' is a Early Midseason single pink Peony Herbaceous Lactiflora, tyrian pink, carpels hairy, with pink tips; disk conspicuous, pink, compact plant, it belongs to the group of "Dwarf" Peonies, (Frederick Francis Weinard & Herman B. Donner, USA, Illinois, 1938).
Bare root size: 3/5 eye
20"
| Size | Weight |
| --- | --- |
| 1/2 eye | 50 gram |
| 3/5 eye | 250 gram |
Quantity per standard box:
Perennial Box Size (standard) = 24" x 16" x 9" or, 60cm x 40cm x 23cm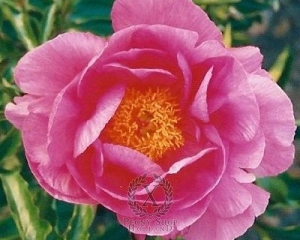 ---
Size (eye)
1+
3+
1/2

€

10.00

€

7.00
3/5

€

15.00

€

12.00
---
Please
login
to place orders and see Peony prices for all quantities.
Peony Caroline is one of the many single Pink Peonies that we grow at Peony Shop Holland.
About Peonynursery "Peonyshop.com" Peony Shop Holland Lutjebroek, the Netherlands
Peony nursery Peonyshop.com Peony Shop Holland right now exclusively concentrates on improving unique, very high high-quality peonies. It has not always been this way. This firm has an outstanding back ground starting off in the year 1875 with Simon Scholten who was basically growing vegetables for living.
In the year 2001 this company built their new advertising and marketing-name & logo design "Peonyshop.com" and consequently they started focusing on improving exceptional peonies. Within 2002 the firm opened up their very own shop on the web", the: peonyshop.com with Peonies & Buxus. In 2003 Joshua Scholten started with multiplying peonies. Then in 2004 the particular firm started to export peonies out of the Netherlands throughout Europe, Usa and also Asia.
Nowadays our own peony nursery is specialized in expanding and spreading exclusive, top quality peony roots that happen to be bought and released around the world. Furthermore the particular organization even cut peonies largely serving the Dutch peony flower sector.
The most important things we pride:
The excellent quality of our own products
The ability to export world-wide
Our wide-ranging collection of pink peonies like Caroline
The peony nursery of large potential pink peonies for cut-flower production and garden.
About growing Caroline a pink peony
The fall season is undoubtedly the best period of time for growing peonies. These peonies are generally exceptionally long-lived plants staying alive close to 50 up to seventy years, so as soon as you'll get the peonies placed correctly, an individual is going to have fun with the peonies for a long time. These plants have a preference for a shiny place with a well-drained ground. A good quality air flow circulation available the peonies can also be important. All these settings help peonies prevent disease issues. To prepare a sowing hole for a bare-root peony, dig the dirt to a depth around 12-18inches. Utilize garden tools to release the sides of the planting hole at the same time. It is actually pretty important that the "eyes, ", or growth, nodes, situated near the bottom of the old stem, end up no more than Two " beneath the dirt surface area.