Peony Camellia White
Peony Camellia White is a Midseason double white Peony Herbaceous Lactiflora, with nice style of ball form of petallage. Large rounded guard petals, slight touch of cream pink to buds and opening flower. No stamens, pollen or seed. Two-to-four buds per stem, good substance and bloom. Reliable and fragrant. Healthy forrest green foliage, good stems, average height 32 inch / 81 cm, Seedling # K53-99. (Roy G. Klehm, USA 1998).
Bare root size: 3/5 eye
32"
Quantity per standard box:
Perennial Box Size (standard) = 24" x 16" x 9" or, 60cm x 40cm x 23cm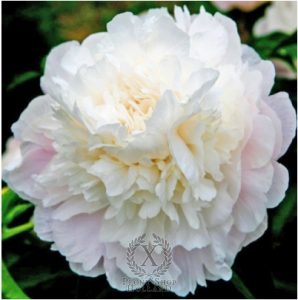 Sold Out! Available in years: 2026, 2028
Peony Camellia White is one of the many double white Peonies that we grow at Peony Nursery Peony Shop Holland.
About Peony Nursery 'Peony Shop Holland' Peonyshop.com Lutjebroek, the Netherlands
Peony Growers Peonyshop.com Peony Shop Holland nowadays solely centers on exclusive, good leading quality peonies. This specific emphasis has not been always the main case. This particular firm has got a wealthy back ground with the starting point in 1875 with Simon Scholten that has been growing veggies for a full time income.
During the year 2001 the business enterprise formed their very own new-found advertising-title & logo design "Peonyshop.com" and as a result they started off putting attention on increasing exceptional peonies. Throughout the year 2002 the organization opened up their on-line peonyshop.com with Peonies & Buxus. In the year 2003 Joshua Scholten started off on with raising peonies. After that in year 2004 this particular company began to export peonies originating from the Netherlands throughout Europe, America and even Asian countries.
Currently our peony nursery is specialized in increasing and spreading exceptional, top quality peony roots which can be offered for sale and released world wide. Aside from that the organization also cut peonies primarily helping the Dutch peony flower sector.
The most important things we pride:
The high-quality of our own products
The potential to foreign trade all over the world
Our extensive assortment of White peonies like Camellia White
Our Nursery of high potential white Peonies for cut-flower production and garden.
Growing Camellia White a double White Peony
The fall is truly the perfect time for planting peonies. Almost all peonies have proven to be unbelievably long-term-lived plants sticking around approximately 50 to seventy yrs, so as soon you'll have them placed in the right way, a person will definitely benefit from them for a long time. These plants prefer a bright place having a well-drained ground. A good air flow movement available the the peony plant is also important and vital. All these settings assist these plants to prevent disease issues. To make the seeding hole for the purpose of a bare-root peony, dig the ground to a level of 12-18inch. Work with a garden fork to loosen the edges of the planting hole at the same time. It's always very critical that the "eyes, ", or growth, nodes, positioned nearby the bottom of the old stem, end up no greater than Two " under the ground surface area.