Peony Bridal Grace
Peony 'Bridal Grace' is a Midseason Bomb white Herbaceous Lactiflora, large white flowers with some cream yellow in the inner bomb area, sometimes petaloids adjacent to red tipped stigmas, flower size 6 inch / 15 cm, healthy green foliage, no side-buds, No stamens, pollen, or seeds, average height 32 inch . 85 cm, (Roy Klehm, USA, 1999).
Bare root size: 3/5 eye
32"
Quantity per standard box:
Perennial Box Size (standard) = 24" x 16" x 9" or, 60cm x 40cm x 23cm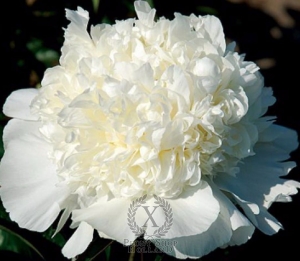 Sold Out! Available in years: 2024, 2026
Peony Bridal Grace is one of the many white Peonies that we grow at Peony Nursery Peony Shop Holland
Regarding peonynursery "Peonyshop.com" Peony Shop Holland Lutjebroek
Peony nursery Peonyshop.com Peony Shop Holland in these days specifically focuses at exclusive, very high prime quality peonies. This very specific focus wasn't always the scenario. This particular organization owns an unique history getting started in 1875 with the help of Simon Scholten who also was growing greens for living.
During 2001 the organization designed their spanking new promotion-label & brand "Peonyshop.com" and they started off concentrating on developing exclusive peonies. Throughout the year 2002 the particular company launched their world wide web peonyshop.com with Peonies & Buxus. In 2003 Joshua Scholten started with breeding peonies. Than in year 2004 this particular company started to distribute peonies from the Netherlands all-around Europe, America and additionally Asian countries.
Currently our peony nursery is focused on expanding and multiplying special, premium quality peony roots that can be sold and released all over the world. Furthermore we also reduce peonies largely serving the Dutch peony flower marketplace.
The most important things we pride:
The high quality of our product
Our ability to export around the world
The best enormous range of white peonies like Bridal Grace
Our Peony Nursery of high full potential white Peonies for cut-flower production
Growing Bridal Grace a white peony
The fall season happens to be a suitable period of time if you weigh in mind seeding peony plants. These peony plants are generally incredibly long-term-lived plants staying alive nearly fifty to seventy years, so right after you'll get them planted rightly, you definitely will enjoy the peonies for years and years. Peonies opt for a sunlit place having a well-drained ground. A good air movement presented around the the peony plant is mandatory. These settings help these plants to prevent disease issues. To arrange a planting hole designed for a bare-root peony, dig the soil to a depth of 12-18inches. Utilize garden tools to release the sides of the seeding hole as well. It really is extremely important and vital that the particular "eyes, ", or growth nodes, situated nearby the base of the old stem, end up no greater than Two " below the dirt area.