Peony Blonde Vision
Peony Blonde Vision is an Early Midseason double yellow Peony Herbaceous Hybrid, a very double form many petals lightly cupped and incurved in a neatly sculptured 6 inch or larger flower. The color is light yellow (RHS 4C-11C) with soft red highlights at center, pink (RHS 53D-54A) and a reddish glow from the depths of the flower, arising from red-pink flares (RHS 54A) at the petal bases, though flares themselves are normally obscured. Generally one flower per stem, spreading bush, which holds together well while in flower. While both are generally rare, some flowers will have a few natural stamens and small carpels with normal stigmas. Carpels are a creamy color, sparsely covered in fine hairs. Medium green leaflets. presumed tetraploid. it flowers about the same time or shortly before Red Charm. No fragrance. A gorgeous flower when it is right. However, the developing buds are vulnerable to late freeze injury, suffering frost damage most seasons in American Central Midwest climate. Recommended for landscape use only in regions that do not experience harsh cold fronts during spring warm up. This plant is an important example of attainable breeding goals in the development of early flowering fully doubled flower forms in the modern early hybrids, the name registered now to preserve its history. Average height 30-34 inch / 76-86 cm. Parentage: Sunny Boy x Nancy. first year propagated prior to 1990. (Don Hollingsworth, USA, MO, 2010).
Bare root size: 3/5 eye
30-34"
| Size | Weight |
| --- | --- |
| 3/5 eye | 250 gram |
Quantity per standard box:
Perennial Box Size (standard) = 24" x 16" x 9" or, 60cm x 40cm x 23cm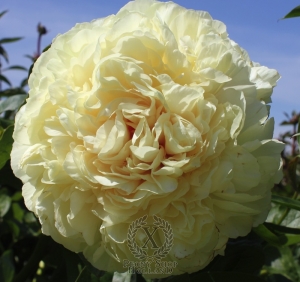 Sold Out! Available in years: 2024
Peony Blonde Vision is one of the many double yellow Peonies that we grow at Peony Shop Holland.
About Peony Farm "Peonyshop.com" Peony Shop Holland Lutjebroek
Peony Growers Peony Shop Holland peonyshop.com at this point primarily targets on getting exceptional, extraordinary top quality peonies. It has not always been this situation. This specific firm carries a successful history starting off in the year 1875 accompanied by Simon Scholten that had been growing fresh fruit for her income.
During the year 2001 this specific company formed their distinctive modern marketing and advertising tactics-label & logo "Peonyshop.com" and they began focusing on developing exceptional peonies. Within 2002 this business launched their own world wide web peonyshop.com together with Peonies & Buxus. Throughout 2003 Joshua Scholten started off on with multiplying peonies. After that in year 2004 this firm began to export peonies of the Netherlands all-around Europe, America and additionally Asian countries.
Right now our peony nursery is specialized in increasing and multiplying unique, high quality peony roots which can be sold and exported to around the world. Aside from that we even cut peonies largely supporting the Dutch peony flower sector.
The particular things we pride:
The excellent quality of our product
Our ability to foreign trade all over the world
Our new wide-ranging range of double yellow peonies like Blonde Vision
The peony nursery of large potential double yellow peonies for cut-flower production
Growing Blonde Vision a double yellow Peony flower
Fall is really the correct time if you ponder growing peony plants. These peonies have proven to be unbelievably long-lived plants sticking around up to 50 to a max of 70 years, so as soon as you'll get them placed in a correct way, an individual definitely will get pleasure from the plants for years and years. Peonies have a preference for a sunny position with a well-drained ground. A good quality air flow movement available the the peony plant is essential. These kinds of milieu assist peonies stay away from disease problems. To make a planting hole for a bare-root peony, dig the dirt to some depth around 12-18inch. Make use of a garden fork to release the edges of the particular growing hole as well. It truly is really significant that the particular "eye", or growing nodes, situated near the base of the old stem, end up no more than 2 inches below the ground surface.