Peony Belleville
Peony Belleville is a Late Midseason purple Peony Herbaceous Lactiflora, anemone-bomb light cyclamen purple, anemone-bomb, striking color contrast of darker guard petals surrounding a mound of smaller, lighter center petals, emerging shoots are dark purple, may need support, mature foliage dark green, easy seeder, proven parent of wanted forms, average height 34 inch / 85 cm. (H. Wolfe/Hollingsworth, 1998).
Bare root size: 3/5 eye
34"
Quantity per standard box:
Perennial Box Size (standard) = 24" x 16" x 9" or, 60cm x 40cm x 23cm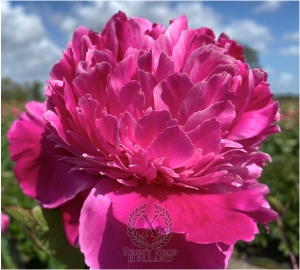 Sold Out! Available in years: 2024, 2026
Peony Belleville is one of the many cyclamen purple Peonies that we grow at Peony Nursery 'Peony Shop Holland'.
About Peony growers "Peonyshop.com" Peony Shop Holland
Peony Growers Peony Shop Holland right now exclusively concentrates at building unique, great quality peonies. It hasn't always been this situation. This particular organization comes with an unique background starting in 1875 together with Simon Scholten that was growing greens for money.
In 2001 the particular company put together their very own spanking new marketing-name & brand "Peonyshop.com" and as a result they started off focusing on developing unique peonies. In 2002 the particular organization launched their own shop on the web", the: peonyshop.com with Peonies & Buxus. In 2003 Joshua Scholten began with raising peonies. After that in year 2004 the corporation began to export peonies of the Netherlands all over Europe, Usa and additionally Asian countries.
Currently our own peony nursery is specialized in increasing and developing exclusive, high quality peony roots that can be bought and exported to across the world. Aside from that we even reduce peonies predominantly helping the Dutch peony flower industry.
The main things we pride:
The premium quality of our own products
Our capability to foreign trade world-wide
Our own wide-ranging range of cyclamen purple peonies like Belleville
The Peony Nursery of substantial full cyclamen purple Peonies for cut-flower production.
Growing Belle Ville a light cyclamen purple peony
The fall season is without a doubt the ideal moment if you consider seeding peonies. All peony plants are generally unbelievably long-term-lived plants functioning for nearly fifty up to 70 yrs, so as soon as you'll have the peonies selected and planted correctly, you will definitely get pleasure from them for many, many years. Peonies like some sort of sun-drenched area with a well-drained ground. A good air movement available the peonies is also significant. All of these milieu allow peonies stay away from illness issues. To make the sowing hole intended for a bare-root peony, dig the soil to the level around 12-18inches. Make use of a garden fork to release the edges of the particular planting hole as well. It is especially essential that the particular "eyes, ", or growth, nodes, situated close to the base of the old stem, end up no more than 2 inches below the soil surface.