Peony Avalanche
Peony Avalanche is a Late Midseason double white Peony Herbaceous Lactiflora, blush-white of waxy texture with a faint pink center and very narrow crimson edges to a few petals, strong fragrance but not sweet, average height 32 inch / 81 cm, good for cut-flower production, good grower. (Crousse, France, 1886).
Bare root size: 3/5 eye
32"
| Size | Weight |
| --- | --- |
| 3/5 eye | 250 gram |
Quantity per standard box:
Perennial Box Size (standard) = 24" x 16" x 9" or, 60cm x 40cm x 23cm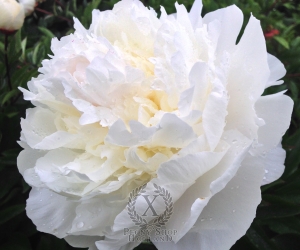 Sold Out! Available in years: 2024, 2025
Peony Avalanche is one of the many white Peonies that we grow at Peony Nursery 'Peony Shop Holland'
About Peony farm "Peonyshop.com" Peony Shop Holland Lutjebroek, the Netherlands
Peony farm Peonyshop.com Peony Shop Holland at the moment primarily concentrates on exclusive, extraordinary quality peonies. It hasn't always been this way. This specific company has got a wealthy back ground starting off in 1875 along with Simon Scholten who had been growing fresh vegetables for her full time income.
During 2001 this company formed their distinctive modern promotion-name & logo "Peonyshop.com" and after that they started putting attention on expanding exclusive peonies. During the year 2002 the particular organization opened up their own on-line peonyshop with Peonies & Buxus. In 2003 Joshua Scholten started out with multiplying peonies. After that in year 2004 the particular corporation started to sell peonies of the Netherlands all-around European countries, America and even Asian countries.
Currently our peony nursery is specialized in expanding and increasing the number of special, high quality peony roots which have been sold and exported to all over the world. Additionally the organization even reduce peonies predominantly serving the Dutch peony flower industry.
The things we pride:
The top quality of our product
Our ability to foreign trade world wide
Our own broad collection of white peonies like Avalanche
The peony nursery stock of large full potential white peonies for cut-flower production.
About growing Avalanche white peony plants
Fall is actually a suitable time if you weigh in mind planting peonies. Nearly all peony plants happen to be amazingly long-lived plants being alive nearly 50 to a max of seventy yrs, so once an individual get them planted in the right way, you will certainly enjoy the plants for many, many years. Peonies prefer a sunny area having a well-drained soil. A good air flow circulation presented around the the peony plant is also very important. These types of surroundings allow these plants to avoid illness problems. To make the sowing hole meant for a bare-root peony plant, dig the dirt to a depth around 12-18inch. Utilize garden tools to remove the sides of the particular seeding hole at the same time. It truly is pretty essential that the particular "eyes", or growth nodes, located close to the bottom of the old stem, end up no more than Two " below the soil surface area.