Peony Allan Rogers
Peony Allan Rogers is a Mid Season double white Peony Herbaceous Lactiflora, large white flowers, packed with pure white petals and nicely fragrant, the plant is quite compact and is so sturdy that the flowers will remain upright in the rain, average height 24 inch / 61 cm, named for the legendary peony grower, expert and author 'Allan Rogers'. (Seidl/Wierstra, USA, 2008).
Bare root size: 3/5 eye
24"
| Size | Weight |
| --- | --- |
| 1/2 eye | 50 gram |
Quantity per standard box:
Perennial Box Size (standard) = 24" x 16" x 9" or, 60cm x 40cm x 23cm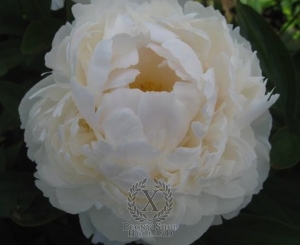 Sold Out! Available in years: 2024, 2025, 2026
Peony Allan Rogers is one of the many white Peonies that we grow at Peony Nursery Peony Shop Holland.
About Peony Nursery "Peonyshop.com" Peony Shop Holland Lutjebroek
Peony farm Peony Shop Holland peonyshop.com at the moment primarily concentrates on expanding exclusive, high quality peonies. It has not always been this situation. This specific company has an exceptional back ground opening in the year 1875 accompanied by Simon Scholten that has been growing greens for her full time income.
In 2001 the particular organization manufactured their unique spanking new marketing and advertising-title & brand "Peonyshop.com" and as a result they began putting attention on increasing unique peonies. Within 2002 this business opened up their online peonyshop together with Peonies & Buxus. In 2003 Joshua Scholten started out with breeding peonies. Than in year 2004 this business started to export peonies originating from the Netherlands all around European countries, America and Asian countries.
Nowadays our peony nursery is focused on increasing and increasing the number of exclusive, top quality peony roots which have been offered for sale and released world-wide. In addition we additionally cut peonies primarily helping the Dutch peony flower sector.
The main things we pride:
The premium quality of our products
Our capability to foreign trade world-wide
Our new extensive range of white peonies like Allan Rogers
Our nursery stock of substantial full potential white Peonies for cut-flower production peonies.
About Allan Rogers a white peony
Fall is certainly the perfect period if you think about planting peonies. A lot of peony plants tend to be unbelievably long-term-lived plants sticking around up to fifty up to seventy yrs, so soon after an individual get them placed rightly, a person will definitely benefit from the peonies for years. Peonies have a preference for some sort of bright place having a well-drained ground. A good air flow circulation available the the peony plant is also important. These special surroundings assist peonies prevent illness issues. To prepare a planting hole intended for a bare-root peony plant, dig the soil to some depth around 12-18inch. Work with garden tools to loosen the edges of the planting hole at the same time. It is really very significant that the "eye", or growth nodes, located near the bottom of the old stem, end up no greater than 2 " under the ground surface.