Peony Think Pink
Peony 'Think Pink' is a Midseason double Pink Peony Lactiflora, well-formed vivid pink with strong outer guard petals that hold the flower form, nice plant stature, slightly fragrant, (William H. Krekler / Roy G. Klehm, USA).
Bare root size: 3/5 eye
27"
| Size | Weight |
| --- | --- |
| 3/5 eye | 250 gram |
Quantity per standard box:
Perennial Box Size (standard) = 24" x 16" x 9" or, 60cm x 40cm x 23cm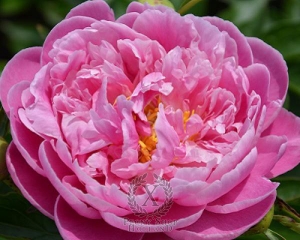 Sold Out! Available in years: 2024
Peony 'Think Pink' is one of the many double Pink Peonies that we grow at Peony Nursery 'Peony Shop Holland'. Peony 'Think Pink' is a Paeonia Lactiflora registered by Roy G. Klehm and breed by William H Krekler, Somerville, Ohio and Whit-tier, Peony breeder William H Krekler [1900-2002] started breeding Peonies with the purchase of Peony seedlings. He registered his first Peony in 1955 and he grew 1300 Peony varieties until 1977. He sold his entire Peony plantation to Peony Nursery 'Charles Klehm and Son Nursery'. Krekler's peonies were the result of human intervention.
Regarding Peony Nursery "Peonyshop.com" Peony Shop Holland
Peony Nursery Peony Shop Holland at the moment only centers on developing exceptional, great leading peonies. This particular emphasis wasn't always the main case. This firm has got an unique back ground starting off in 1875 together with Simon Scholten that also had been growing veggies and fruit for living.
During the year 2001 the firm put together their brand-new marketing and advertising tactics-label & brand "Peonyshop.com" and they began concentrating on expanding unique peonies. In the year 2002 the firm launched their very own on-line peonyshop together with Peonies & Buxus. In the year 2003 Joshua Scholten began with breeding peonies. After that in year 2004 this particular company started to market peonies from the Netherlands all-around Europe, Usa and Asian countries.
Nowadays our peony nursery is specialised in expanding and multiplying exclusive, top quality peony roots that can be offered for sale and released in many countries. Furthermore this firm also cut peonies largely helping the Dutch peony flower industry.
The things we pride:
The top quality of our own products
Our capacity to foreign trade all over the globe
The best substantial range peonies like Think Pink
Our crame of high potential seedlings
About growing Think Pink peonies
Fall is without a question the ideal period for planting peonies. All peonies are usually amazingly long-lived plants long lasting up to 50 to a maximum of seventy years, so once you'll get them placed in the right way, a person definitely will get pleasure from the peonies for years. These plants have a preference for some sort of sunny place together with a well-drained soil. A good air flow circulation available the the peony plant is required. All these milieu allow peonies prevent disease problems. To organize the seeding hole for the purpose of a bareroot peony plant, dig the ground to some level of 12-18inch. Work with a garden fork to loosen the sides of the planting hole as well. It is actually extremely important that the particular "eyes, ", or growth, nodes, situated close to the bottom of the old stem, end up no more than 2 inch beneath the ground surface.