Peony Sorbet
Peony 'Sorbet' is a Midseason double Pink Peony Lactiflora, remarkable flowers in seemingly never-ending layers of color and texture, small and frilly vanilla-cream petals are sandwiched between larger-petaled layers of strawberry and raspberry ice, that finally reveal a pale-yellow center, lusciously fragrant, the Dutch perennial specialist Luc Klinkhamer noticed it during a trip in 1987 to South-Korea. Near by the North-Korean border it was growing in an orchard. the flowershape was build of several levels and the color and shape resembles a Sorbet. The plant was only used for the yield of roots and not for it's beauty. (South Korea).
Bare root size: 3/5 eye
30"
| Size | Weight |
| --- | --- |
| 3/5 eye | 250 gram |
Quantity per standard box:
Perennial Box Size (standard) = 24" x 16" x 9" or, 60cm x 40cm x 23cm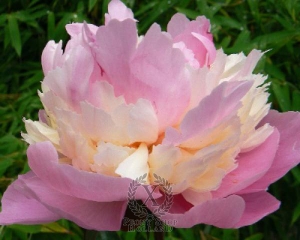 Sold Out! Available in years: 2024
Peony 'Sorbet' is one of the many double Pink Peonies that we grow at Peony Nursery 'Peony Shop Holland'.
Regarding peony farm "Peonyshop.com" Peony Shop Holland Lutjebroek
Peony Growers Peony Shop Holland in this modern day solely focuses on developing unique, good quality peonies. This particular aim was not always the main case. This firm has got an unique background opening in 1875 with Simon Scholten who was basically growing veggies and fruit for money.
During the year 2001 the organization developed their new marketing-name & brand "Peonyshop.com" and after that they began putting attention on improving exceptional peonies. Throughout 2002 the particular company launched their very own on-line peonyshop with Peonies & Buxus. During 2003 Joshua Scholten started with multiplying peonies. Than in 2004 this firm began to foreign trade peonies from the Netherlands all-around Europe, America plus Asia.
Right now our peony nursery is specialized in growing and spreading exclusive, high-quality peony roots that can be marketed and released throughout the world. Additionally we even cut peonies mainly supporting the Dutch peony flower industry.
The particular things we pride:
The high-quality of our product
Our capacity to export world wide
All of our substantial assortment peonies like Sorbet
Our crame of large potential seedling peonies
About growing Sorbet a peony
The fall season is usually the best moment for seeding peonies. The peony plants are extremely long-lived plants long lasting approximately 50 to a max of 70 years, so right after an individual get them planted in a correct manner, you is going to have fun with the peonies for years and years. Peonies prefer some sort of sunny place having a well-drained dirt. A good quality air flow movement presented around the the peony plant can also be required. All of these environments assist peonies stay away from illness issues. To arrange a planting hole for the purpose of a bareroot peony plant, dig the ground to some level around 12-18". Utilize garden tools to remove the sides of the particular growing hole at the same time. It is actually pretty critical that the particular "eyes, ", or growing nodes, located near the bottom of the old stem, end up no greater than 2 inch under the dirt surface area.