Peony Nellie Saylor
Peony Nellie Saylor is a Late Midseason Japanese red Peony Herbaceous Lactiflora, deep wine red Peony with a cream to pink puff center, white in appearance, Odd peony, average height 36 inch / 91.5 cm, named for an older sister, (William H Krekler, USA, 1967).
Bare root size: 3/5 eye
36"
| Size | Weight |
| --- | --- |
| 1/2 eye | 50 gram |
Quantity per standard box:
Perennial Box Size (standard) = 24" x 16" x 9" or, 60cm x 40cm x 23cm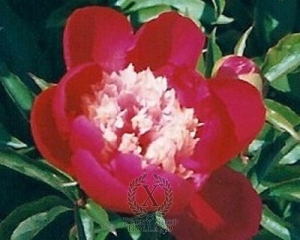 ---
Size (eye)
1+
3+
1/2

€

12.00

€

9.00
---
Please
login
to place orders and see Peony prices for all quantities.
Peony Nellie Saylor is one of the many red peonies that we grow at Peony Nursery Peony Shop Holland. Nellie Saylor is a Peony Herbaceous Lactiflora Peony breed by William H Krekler, Somerville, Ohio and Whit-tier, Peony breeder William H Krekler [1900-2002] started breeding Peonies with the purchase of Peony seedlings. He registered his first Peony in 1955 and he grew 1300 Peony varieties until 1977. He sold his entire Peony plantation to Peony Nursery 'Charles Klehm and Son Nursery'. Krekler's peonies were the result of human intervention.
About Peony growers "Peonyshop.com" Peony Shop Holland, Lutjebroek, the Netherlands
Peony Growers Peony Shop Holland Peonyshop.com in these days primarily concentrates on expanding unique, great high quality peonies. It hasn't always been this way. The corporation comes with an unique history starting up in 1875 accompanied by Simon Scholten who was basically growing veggies for income.
During the year 2001 the particular company produced their unique spanking new advertising-title & logo "Peonyshop.com" and they began concentrating on growing exceptional peonies. In 2002 the particular business opened their shop on the web", the: peonyshop.com with Peonies & Buxus. During 2003 Joshua Scholten started out with raising peonies. After that in year 2004 this corporation began to export peonies from the Netherlands all around European countries, Usa and also Asian countries.
Right now our peony nursery is focused on maximizing and multiplying exclusive, high quality peony roots that can be sold and released throughout the world. Additionally we even reduce peonies predominantly helping the Dutch peony flower marketplace.
The things we pride:
The premium quality of our own products
Our ability to export across the globe
All of our enormous range of red peonies like Nellie Saylor
Our Peony Nursery of large potential red Peonies for cut-flower production
About Nellie Saylor a red Peony flower
The fall season is certainly the perfect period of time for seeding a peony. These peony plants are actually extremely long-term-lived plants sustaining approximately 50 up to 70 years, so shortly after a person have them planted in the correct way, an individual is going to get pleasure from the peonies for years. These plants have a preference for some sort of bright place with a well-drained soil. A good air circulation presented around the the peony plant can also be important. These circumstances support peonies stay away from disease problems. To prepare the sowing hole for the purpose of a bare-root peony plant, dig the soil to some depth around 12-18inch. Work with a garden fork to loosen the edges of the seeding hole as well. It really is very important and vital that the particular "eye", or growth, nodes, positioned close to the base of the old stem, end up no more than 2 " below the ground surface.