Peony Nancy Nicholls
Peony Nancy Nicholls is a Late full double White Peony Lactiflora, opens rosy pale pink which persists at the center, very broad petals fluted and with uniquely serrate edges, a soft and feminine effect, good grower and prolific of bloom, strong stems, average height 30 inch / 76 cm, (Nicholls, USA, 1941).
Bare root size: 3/5 eye
30"
| Size | Weight |
| --- | --- |
| 1/2 eye | 50 gram |
Quantity per standard box:
Perennial Box Size (standard) = 24" x 16" x 9" or, 60cm x 40cm x 23cm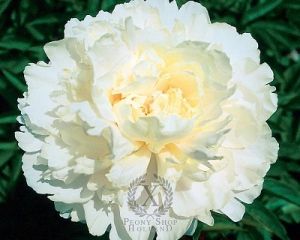 ---
Size (eye)
1+
3+
1/2

€

13.00

€

10.00
---
Please
login
to place orders and see Peony prices for all quantities.
Peony Nancy Nicholls is one of the many White Peonies that we grow at Peony Nursery 'Peony Shop Holland'.
About peony farm "Peonyshop.com" Peony Shop Holland
Peony farm Peony Shop Holland Peonyshop.com at this time solely focuses at expanding exclusive, extraordinary superior quality peonies. This hasn't been always the scenario. This particular firm has got a wealthy background opening in the year 1875 with Simon Scholten who also was growing fruit for a full time income.
During the year 2001 this business enterprise designed their own brand-new marketing-name & brand "Peonyshop.com" and after that they started focusing on improving unique peonies. Throughout the year 2002 the particular corporation opened up their own world wide web peonyshop.com with Peonies & Buxus. Within the year 2003 Joshua Scholten started off on with raising peonies. Than in year 2004 the particular firm began to export peonies out of the Netherlands all-around Europe, America and Asian countries.
Right now our peony nursery is specialized in increasing and developing exclusive, high-quality peony roots which can be marketed and released globally. Furthermore we additionally reduce peonies largely supporting the Dutch peony flower industry.
The most important things we pride:
The high-quality of our own product
Our potential to foreign trade world-wide
Our new enormous collection of double white peonies like Nancy Nicholls
Our Peony Nursery of substantial full potential double white Peonies for cut-flower production.
Growing Nancy Nicholls a double white Peony flower
Fall is really the right time for planting peony plants. Almost all peony plants are usually incredibly long-lived plants sustaining close to 50 to a maximum of 70 yrs, so as soon as you have them planted in the correct manner, an individual will enjoy the plants for many years. These plants opt for some sort of bright place together with a well-drained ground. A good air movement available the peonies is very important. These environs help these plants to stay away from illness issues. To arrange a planting hole for the purpose of a bare-root peony, dig the ground into a level of 12-18". Make use of garden tools to remove the edges of the growing hole at the same time. It is usually really critical that the "eyes, ", or growing nodes, situated nearby the base of the old stem, end up no greater than 2 inches below the dirt surface area.