Peony Lillian Wild
Peony Lillian Wild is a Late Midseason double White Peony Herbaceous Lactiflora, very large flower with a flat face, on opening it is tinged with a delicate flesh pink center that fades to off white, average height 32 inch / 81 cm, (Wild, USA,1930).
Bare root size: 3/5 eye
32"
| Size | Weight |
| --- | --- |
| 3/5 eye | 250 gram |
Quantity per standard box:
Perennial Box Size (standard) = 24" x 16" x 9" or, 60cm x 40cm x 23cm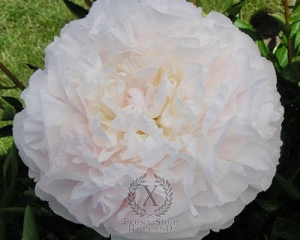 Sold Out! Available in years: 2024, 2025
Peony Lillian Wil is one of the many White Peonies that we grow at 'Peony Shop Holland'.
Regarding Peony growers "Peonyshop.com" Peony Shop Holland Lutjebroek
Peony Nursery Peony Shop Holland peonyshop.com right now primarily centers on exclusive, good leading quality peonies. It hasn't always been this way. This particular organization owns a rich background getting started in the year 1875 along with Simon Scholten who also was growing fresh fruit for an income.
In the year 2001 the business enterprise put together their very own spanking new marketing and advertising-name & brand "Peonyshop.com" and consequently they started off focusing on developing unique peonies. During 2002 this corporation opened their shop on the internet", the: peonyshop.com together with Peonies & Buxus. During 2003 Joshua Scholten started out with breeding peonies. Then in 2004 this business started to distribute peonies of the Netherlands all around Europe, Usa plus Asian countries.
Nowadays our own peony nursery is specialized in increasing and developing unique, premium quality peony roots that can be sold and released world wide. Furthermore this firm additionally cut peonies mainly helping the Dutch peony flower sector.
The particular things we pride:
The excellent quality of our product
The ability to foreign trade all over the globe
The best substantial assortment peonies like Lillian Wild
The Peony Nursery of high potential white Peonies for cut-flower production.
Growing Lillian Wild a white Peony flower
The fall season is without a question the ideal time for planting peony plants. These peony plants are generally incredibly long-term-lived plants long lasting close to 50 to a maximum of 70 yrs, so shortly after you'll have them planted in the correct manner, an individual will definitely enjoy the plants for many years. Peonies prefer a bright spot having a well-drained ground. A good air flow movement presented around the peonies is important and vital. All of these surroundings help peonies stay away from illness issues. To prepare the planting hole for a bare-root peony, dig the soil into a depth of 12-18inches. Use a garden fork to loosen the sides of the particular growing hole as well. It's always really critical that the "eye", or growth, nodes, situated nearby the bottom of the old stem, end up no greater than 2 inches beneath the soil area.